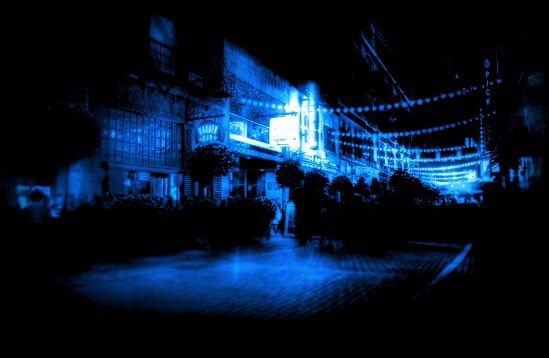 We walked into Wonder Bar
Mouthing our words
As our voices were washed
By modQUAD's Gypsy Tita
We grabbed a corner table
For two on the patio
To make shaky small talk.
Two dry vodka martinis
One with lemon peel and bitters
One with orange.
I asked how she liked the cityscape
She rambled an answer
I barely understood
But I enjoyed every second of it.
Our drinks arrived just in time
And she continued on
Paused for moment-
By the first sour flame
To peel the lining of her throat.
Her eyes winced and winked
Her head tilted down
And she waved her hand
Over her neck
And she continued on.
As she spoke I fell; strange.
On the braid of her lips
I found a bended creek
To skips thoughts across;
A place where
Peace and madness make love.
She sipped her second drink
Staining the straw,
The straw blushing
Like her blushing
From the heat of the
vodka and bitters;
From the heat of my eyes
Walking all over her.
She wants to leave,
We want to leave,
But our nerves still need
A few more drinks
And the band's jazz
Keeps kicking till two.